"This tool has been a game changer for me. It saves me time and efforts tying my garden plants. I'm very happy I bought it and I strongly recommend every gardener to try it out." Chris - CA, US.
Have you been struggling tying the branches in your garden?
Meet the excellent tool for all branches in your garden or any plant that climbs and needs support, the uses of this tape tool are endless!
✅ Widely Usage: This tape tool can be used for different kinds of plants and vine crop such as grapes, tomatoes, cucumbers, peppers, flowers, eggplants, and so on.


High Efficiency: The plant tying machine is a great tool to have in your greenhouse, garden, or summer house. It will greatly improve your efficiency, saves you labour costs, time and it does not easy damage the crops. Our customers are pleased with the tool because of its effectiveness.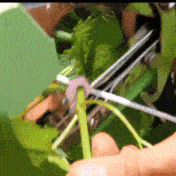 Adjustable Width: The opening of tape circle can be adjusted at any time to suit the width you need, this function will enable you to apply to it to fit different plants in order to make your work more efficiently.
Easy To Operate: Pull out the strap then put the branch into the strap, press down and release the binding machine. 
Time saving: It costs less time, so when farmers are busy with the planting, you can have more time to do other things like sprinkling and this method will allow you increase the plant area.

Maintenance Method
✅ Change a new blade with a flat nose plier when the blade is not able to cut the tape after several use.
✅ You can use nipper or small screw driver to get the stitching needle out when the tying machine is blocked: If 1 section breaks into 2 section, you can use one by one section to avoid it blocked.
✅Add lubricant oil to every joint after a long use of the tying machine.

Lightweight and portable to carry: Weight: 0.53kg

Note: The real colour of the product may be slightly different from the pictures shown on the website due to some factors such as brightness of devices or light.
Package Includes: 
1 x Plant Upright Tying Tape-tool
10 x Rolls Of Tying Tape
1 x 10000 Staples