Rustic Rusted Pet Garden Sculpture

This lovely heart will hang will proudly in your garden showing a paw print, a little sign that you are a dog lover. The perfect gift for a loved one or yourself. Simply leave outdoors for a fabulous natural rust to form.

Our stunning new steel sculptures are designed to rust, but we have had so many requests for an un-rusted version we decided to supply our art in the steel format too. This allows you the choice to paint it in a colour of your liking for indoor use or if you desire the rusted style as per our image you simply leave the sculpture outside in your garden and within a week or so rust will soon be forming to give it the classic rustic finish.

Our sculptures are intended to rust & will do easily subjected to our British weather however you can speed up the process by spraying some water on the surface every few days or alternatively add a mixture of 1 part household vinegar to 20 parts water, spray or brush onto the surface a couple of times to quicken up the transformation. The steel composition at molecular level rusts only on the surface and does not penetrate deeper. It is an expensive steel that lasts a lifetime.

It's fun to watch it transform into the perfect garden sculpture!

PLEASE NOTE: should you wish to keep your sculpture in its un-rusted state you must either apply a sealant protection of some kind to the bare steel, or keep it in a very dry location.

***The product is delivered in its un-rusted state: see the second image***

Dimensions: 120mm by 120mm (4.92 * 4.92 inches)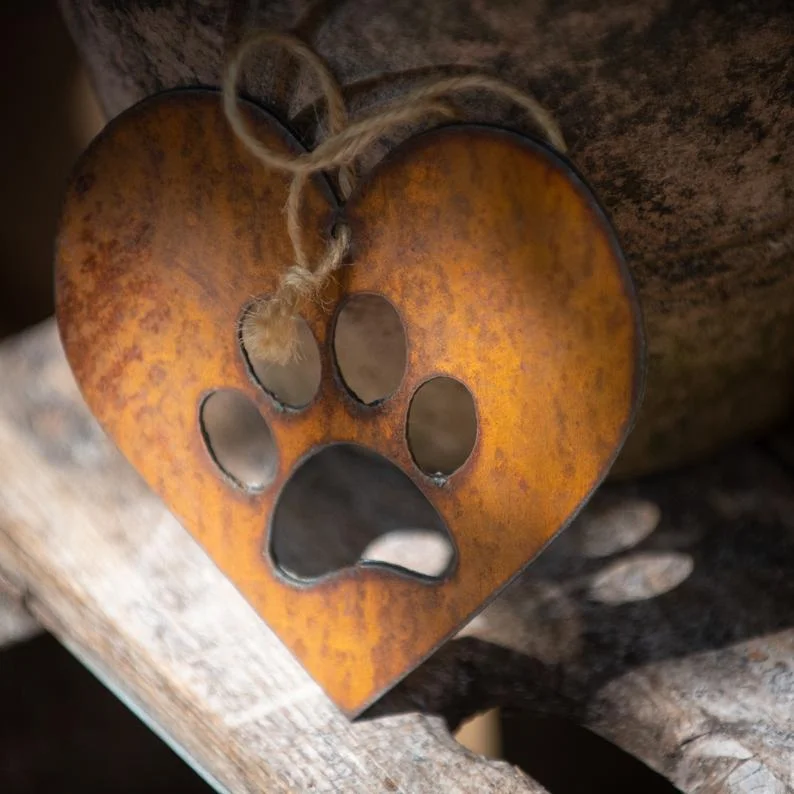 Please note these garden sculptures are made of steel with a coating of rust. This steel is designed to rust only on the surface and not go any deeper. This is how they come, they are not painted, and are designed to be a rustic rusted look , blending in to your garden perfectly.

About Us

The company is based around 2 husband and wife families who are passionate pet lovers and wildlife watchers. One family run a herd of 22 highland cows, 40 sheep, 3 pigs, 2 cats and a tortoise whilst the others are wildlife photographers and have 3 Labrador dogs, 2 horses and 3 chickens in their family!

Most of the artwork you will see on the page are based around shots taken by us so are very unique and you wont find these anywhere else in the world.